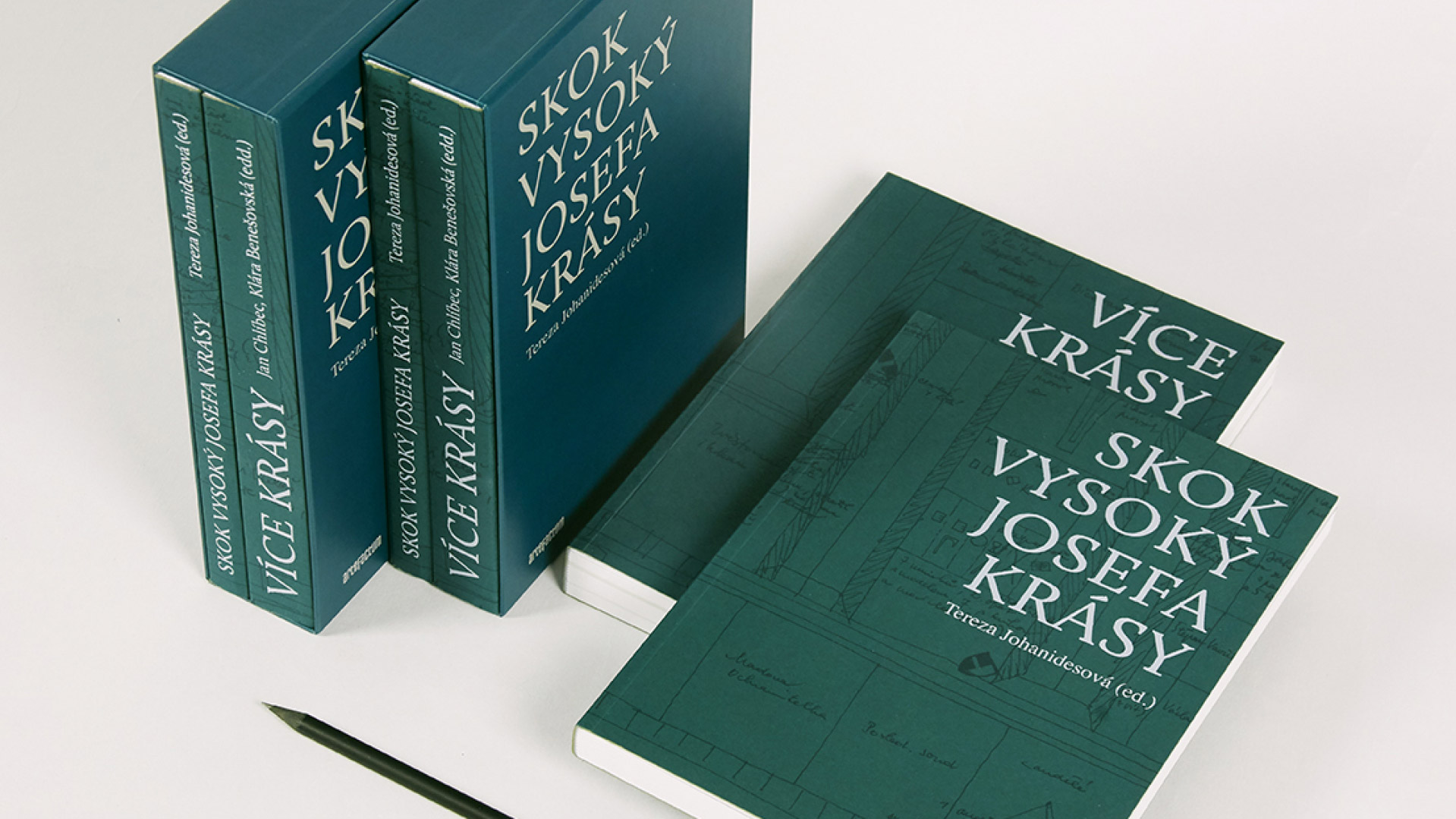 More Krása + The High Jump of Josef Krása
More Krása + The High Jump of Josef Krása
Jan Chlíbec – Klára Benešovská (eds.)
Tereza Johanidesová (ed.)
The book More Krása (in Czech, Více Krásy) follows up on the events of 2015, which was announced at the Institute of Art History of the Czech Academy of Sciences as the "Year of Josef Krása": the exhibition "30 Years Without Krása" and the symposium "More Krása". The themes highlighted by the exhibition and the contributions presented or announced at the symposium became the basis for the texts in this non-traditional volume, richly illustrated with archival photographs and Krása's own drawings from his travel journals. The texts in the book are grouped into three separate blocks: Krása known and unknown – Krása in memories and documents – Krása "rediscovered" in contemporary medievalism.

The authors of the texts are Klára Benešovská, Beket Bukovinská, Lenka Bydžovská, Jan Dienstbier, Ivo Hlobil, Jan Chlíbec, Kateřina Kubínová, Lenka Panušková, Jaroslav Pešina, Pavel Spunar, Milada Studničková, Rostislav Švácha, Zuzana Všetečková, and Petr Wittlich.
First Edition in Czech, 263 pages, colour illustrations, Prague 2019
ISBN: 978-80-88283-29-4
The book High Jump (in Czech, Skok vysoký), complementary to More Krása and with an introduction to Krása's canon by Petr Wittlich, is dedicated to Krása's theoretical and historiographical texts, which were selected, organized and prepared by Tereza Johanidesová. The texts are divided into two sections: afterwords for Odeon publishing house and unpublished texts from his estate. Their assessment in the context of both Krása's professional work and the history of the field of art history was undertaken by the editor in the final article, aptly entitled "Krása among the Classics". The title of the book, which together with the initial photograph recalls the great physical condition of young Josef Krása, is at the same time a metaphor for the high level of his scholarly work and human virtues.

First Edition in Czech, 151 pages, colour illustrations, Prague 2019
ISBN 978-80-88283-30-0619